Ecotoxicology
Search line summary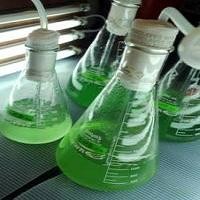 The general objective of the line is to study the impact that different types of pollutants can produce on the aquatic and terrestrial environment, either in natural communities or at the laboratory level.
In the evaluation of the ecological impact different parameters or aspects can be taken into account such as the effects on the survival and the behaviour of the species of organisms, the incidence at the level of metabolism on some general and specific biomarkers of certain functions
Main lines of researc
Studies of acute and chronic toxicity.
Field studies with aquatic organisms.
Physiochemical and biological characterization of soils and sediments.
Studies of plants.
Studies with terrestrial invertebrates.
Projects/Agreement
Biomonitoring of contaminated soils: Evaluation about ecological risk in invertebrate's communities in selected zones of Catalonia. (Solibiomonitor).
Feasibility of a test for soil environmental assessment. (Coltox).
Biological methods to evaluate the environmental risk of contaminants substances in Mediterranean River Ecosystems.
Development of ecotoxicology tests to measure organisms in the Ebro river and the analysis of chemical risk of sludge from the Flix reservoir.
Development of ecotoxicology research studies.
Evaluation of ecologic risk of pesticides in natural and exploited communities of invertebrates in Delta de l'Ebre and influence zones.
Development of a new biodegradable biocidal compound for control and elimination of pathogens in water.
Ecotoxicology research to evaluation of environmental risk of an API.
Effects of polluting hydrocarbons in fish communities in aquatic ecosystems of "Riera de les Arenes"; Fire in Talamanca
Evaluation of ecological effects of pollutants in aquatic communities.
Toxicity and capacity of thyroid disruption of brominated flame retardants and its products of degradation and metabolism.
Environmental risks of mixtures of pollutants in aquatic ecosystems. Scientific basis for sustainable environmental management.
Services
Acute and chronic toxicity studies according to guides and standardized rules, and own methods.
Essays with bacteria, seaweed, daphnia and fish.
Biodegradation studies in aquatic environment.
Physicochemical and biological parameters in soil and sediment samples. Studies of acute and chronical toxicity according to guidelines and standardized standards, and its own methods with plants and with terrestrial invertebrates.
Toxicity studies with plants.
Terrestrial invertebrate's studies.
Removal tests with earthworms.
Acute toxicity and breeding tests with earthworms.
Insect and toxicity tests with insects (collembolans).