Punctuation
Academic English punctuation
Simple rules
are outlined in an easy-to-consult way by
the University of Wisconsin writing centre
. They are a good place to start building a foundation.
Punctuation rules and manuscript conventions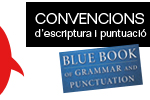 Punctuation rules
and manuscript conventions that are typical of English are outlined on the website for
The Blue Book of Grammar and Punctuation
by Jane Straus. Although the grammar advice mainly addresses the errors of native speakers of English, the punctuation notes are universally useful.