MSX and the UPC join forces to further develop the Sustainable Mobility Centre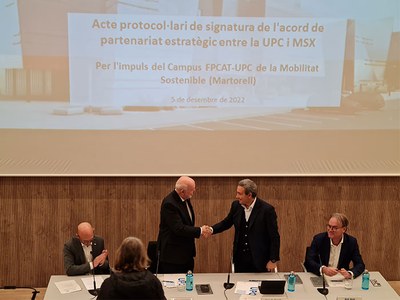 +
Download
UPC rector Daniel Crespo and MSX International CEO and executive chairman Ugo de Carolis upon signing the agreement
The UPC and MSX International TechServices, a global organisation providing technology-enabled business solutions and services to the mobility industry, have signed a collaboration agreement to establish the Sustainable Mobility Campus in Martorell. The company will take part in the project as a strategic partner.
Dec 16, 2022
Daniel Crespo, rector of the UPC, and Ugo de Carolis, CEO and executive chairman of MSX International, signed the agreement on 5 December. The event was also attended by Enric Vinaixa, secretary for Labour of the Government of Catalonia, and Ignasi Buyreu, director of the FPCAT-UPC Sustainable Mobility Campus (Martorell).
This agreement is part of the UPC's strategy to identify and build strategic alliances with key industry innovators and to successfully develop this project. The strategic agreement between the UPC and MSX will be based on the academic collaboration of the two organisations in accordance with their respective areas of expertise in offering cutting-edge training, promoting talent and developing activities that facilitate innovation. The core training themes of the FPCAT-UPC Sustainable Mobility Campus will be driven by the transformation of the mobility industry, with an emphasis on emerging areas such as autonomous and electric vehicles, and innovation in mobility.
The training topics will include:
Advanced manufacturing: Internet of things (IoT), robotics, big data.
Advanced materials: Additive manufacturing, adhesives, high-power lasers, nanotechnology, composites.
Logistics and circular economy: Smart logistics, traceability, environmental impact, purchasing policy.
Sustainability and the automotive sector: Predictive maintenance based on data and sensors, emissions control, error and defect analysis.
Self-driving and active safety: Biometric controls, advanced assistance systems, automated driving, integration of 5G systems.
Energy: Electromobility, decarbonisation, hybridisation, hydrogen, batteries.
Mobility innovation: mobility as a service.
Key skills: Key tools and skills in transforming productive processes, systems and fabrics.
The mobility industry faces enormous challenges and is undergoing momentous change, which is driven by new mobility models and market participants, and a growing demand for sustainable vehicles from regulators and consumers. This campus will apply the latest technologies to education and embrace new trends in the automotive industry.
As a strategic partner in this innovative project to set up a training centre for sustainable mobility, MSX contributes its extensive experience as a company that operates in more than 80 countries and specialises in digital retail transformation and customer experience. Today, the company partners with leading automobile makers globally, enabling them to compete successfully and gain momentum.
In March 2022, the UPC won the tender—requested by the Government of Catalonia—for the management and operation of the Martorell Automotive Vocational Training Centre (CFPA) for the next 15 years. The project has become a training and innovation model for the transformation of mobility resulting in the current Sustainable Mobility Campus in Martorell. MSX was one of the companies in the bidding process.