The UPC in Terrassa is leading the creation of new technologies for industrial wastewater treatment and reuse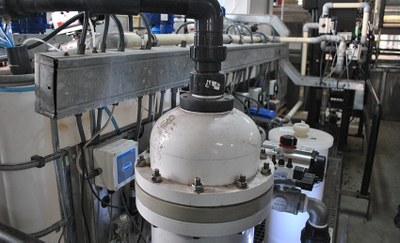 +
Download
Water electro-purification machine designed by INTEXTER in the framework of the ECUVAL project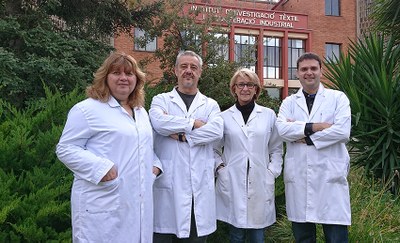 +
Download
María Carmen Gutiérrez, Luis Romeral, Mercè Vilaseca and Víctor López, researchers at UPC involved in the projects
INTEXTER and the MCIA research group, both of which belong to the UPC and are located on the Terrassa Campus, launched the ELDE project with the aim of creating new technologies for wastewater treatment and reuse in the paper, chemical and leather tanning industries. INTEXTER also participates in the REGIREU project to evaluate the combination of two technologies for the reuse of effluents in new dyeing processes on a pilot scale. Two technology centres and six SMEs are also involved in these projects, which have a budget of over 4 million euros.
Mar 22, 2019
The water sector in Catalonia has an annual turnover of almost 4.5 billion euros and accounts for 2.2% of Catalan GDP. Water is a fundamental element in certain industries, which need to use it efficiently from both an environmental and a financial point of view. That is the reason why the Catalan government, through the agency ACCIÓ and with a budget of 12 million euros, promoted the
RIS3CAT water community
to create new technologies to improve wastewater management and reuse in Catalonia.
In this context, the
Universitat Politècnica de Catalunya · BarcelonaTech (UPC)
, within the framework of the ELDE project, is leading the creation of new technologies for wastewater reuse through
INTEXTER
and the
MCIA
research group, both of which belong to the UPC and are located on the Terrassa Campus. The
Catalonia Institute for Energy Research
and the Catalan technology centre
EURECAT
,  as well as the SMEs Waterlogies, CIM Aigua, Lavola and Pere Valls, also participate in the ELDE project.
Water treatment in the paper, chemical and leather tanning industries
The RIS3CAT water community co-funded the
ELDE project, aimed at researching the viability of electrochemical industrial wastewater treatment from a technical, environmental and financial point of view
. The project has an overall budget of 1.75 million euros and will focus on three wastewater-heavy industries: paper, chemical and leather tanning. For a period of three years, UPC researchers will be applying new technologies for electrochemical wastewater treatment, in order to select the most appropriate technology for each of these three industries. As explained by the project coordinator,
María Carmen Gutiérrez
,
"one of our main aims is to build a larger pilot plant for the paper industry and a smaller and more versatile one to treat wastewater from other industries. We are not starting from scratch because we already have some know-how from other projects that are working well in the textile dyeing industry"
.
The director of the MCIA research group,
Luis Romeral
, believes that
"the challenge here is very exciting because we will be able to apply high-efficiency power electronic systems and renewable energy to wastewater treatment, thus contributing with our know-how and expertise to promoting a circular economy in the water sector"
.
The ELDE project will focus on the use of electrochemical technologies for industrial wastewater treatment and reuse by using electricity and generating chemical reagents. These techniques are called
in situ
electrochemical oxidation, oxidation with electro-generated compounds, electrocoagulation and electrodialysis. Effluents derived from the paper, chemical and leather tanning industries are difficult to treat with conventional methods due to their high organic and salt content and the presence of non-biodegradable organic compounds.
For this reason, ELDE will select the most suitable effluents for electrochemical treatment and create
two pilot plants based on these technologies to try to significantly reduce water pollution
and the energy consumption related to these technologies. It will develop a new high-efficiency renewable energy source, evaluate the reuse of treated effluents, study the impact of wastewater treatment processes in each sector and assess their environmental, technical and economic viability.
INTEXTER and more specifically its
research group Environmental Engineering (ENMA)
are blazing a trail in the research and application of electrochemical wastewater treatment. Some companies are already using INTEXTER's
ECUVAL system
to successfully treat and reuse textile wastewater with strong colouration, saving an enormous quantity of water and salt. As for the other partner, the MCIA research group has extensive experience in industrial R&D projects related to the application of new technologies to save energy with electronics and renewable energies.
Urban and industrial water regeneration
Within the context of the RIS3CAT water community, INTEXTER and the MCIA research group are also taking part in the Research on Water Regeneration Technologies and Risk Management for Reuse
(REGIREU project)
, which aims to
acquire knowledge and develop innovative technologies for the regeneration of urban and industrial wastewater
and its subsequent reuse.
One of the REGIREU project's activities is carried out at INTEXTER's Environmental Pollution Control Laboratory, the headquarters of the ENMA research group, which has longstanding experience in technology transfer projects with industries in various sectors. Coordinated by the researchers
Mercè Vilaseca
and
Víctor López
, it focuses
on evaluating the combination of two wastewater treatment processes on a pilot scale
: moving bed biofilm reactor (MBBR) technology, which degrades organic matter in water using the biomass attached to small carriers that move freely, and membrane bioreactor (MBR) technology, which separates sludge by membrane filtration.
The MBBR technology consists of the biological treatment of industrial wastewater with high pollution loads. The benefits of this technology over conventional activated sludge treatments are better oxygen transfer, lower retention times and increased organic loading.
The MBR technology consists of biological treatment with suspended biomass to purify wastewater, in which biomass is separated by membrane filtration instead of decantation. The benefits over conventional activated sludge systems are a reduced carbon footprint, higher effluent quality, disinfection and increased volumetric loading. In addition, purification plants require less space.
According to INTEXTER researchers,
"a mixed technique combining both technologies could be much more effective in treating textile wastewater and for its reuse in new dyeing processes"
. The REGIREU project has designed and built a pilot plant that combines both technologies, MBBR and MBR, to obtain high-quality effluents (less dirty, with lower organic and suspended solid content) that can be reused in further textile dyeing processes.
For this project, INTEXTER collaborates with the water treatment SME BIOFIL, the textile company Acabats del Bages and the Catalan technology centre EURECAT. The project has an overall budget of 2.2 million euros, of which 112,000 euros are managed by INTEXTER.