Technological cooperation at the UPC to fight COVID-19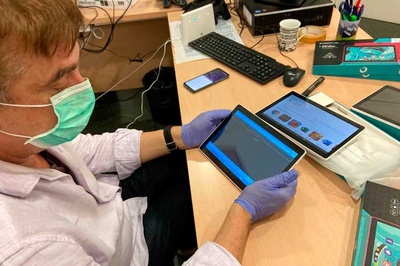 +
Download
With the TelecomuniCAT project, patients and relatives can be connected using mobile devices such as the one shown in the image.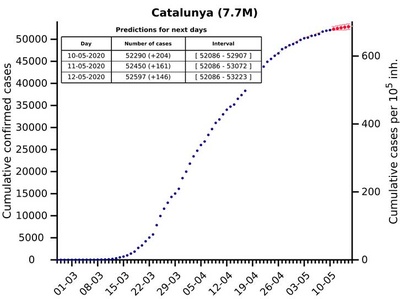 +
Download
Graph of the situation on cases of COVID-19 and short-term forecasts for Catalonia, elaborated by the BIOCOMSC group
Low-cost ventilators, ICT technology to manage the spread of the pandemic, a campaign to collect tablets and mobile phones for isolated patients in hospitals... The UPC is providing 145,000 euros in funding to support 20 local- and international-scale cooperation projects to tackle the COVID-19 health emergency.
May 13, 2020
These 20 projects, managed by the Centre for Development Cooperation (CCD), are the result of two special calls for applications for financial support aimed at research and service staff that the Universitat Politècnica de Catalunya · BarcelonaTech (UPC) issued on 1 April. The University endeavours to respond to the global challenge of fighting COVID-19 with international-scale development cooperation projects aimed at disadvantaged countries, where the advance of the SARS-CoV-2 epidemic is expected to become worse over the coming months, and innovation and technology transfer projects for meeting local social needs resulting from the pandemic, particularly among the most vulnerable groups.
You can check the

resolution

of the two calls and the

project list

.
The projects propose innovations ranging from ventilators and PPEs to tools for supporting decision making, accessing education and entertainment, facilitating communication between patients and relatives, and analysing emerging needs.
These are some examples:

Prototypes of low-cost ventilators
Leonardo Acho, a professor at the ESEIAAT from the Department of Mathematics, is designing an easy-to-produce, low-cost ventilator, which will require clinical approval. Unlike conventional high-cost ventilators, this new model will be much cheaper to make it affordable and easy to manufacture especially for regions with few resources.

A group of teaching staff, administrative staff and alumni from the EPSEM is also developing a low-cost ventilator for hospitals in collaboration with Althaia and other entities and companies. This 3D printed prototype is designed to be replicable and to address intensive care needs, especially in areas with minimal medical infrastructure. The project is coordinated by the professor Pere Palà, the director of the Department of Mining, Industrial and ICT Engineering.

A tool to identify patients with autonomous respiratory function
A team of researchers coordinated by Luis Eduardo Mújica, from the Department of Mathematics and a professor at the EEBE, collaborates in creating a tool based on data processing and analysis (clinical and analytical parameters) for supporting healthcare professionals to optimally manage the resources available in intensive care units (ICU) in hospitals.

The decision to use mechanical ventilation on ICU patients with COVID-19 is based on the combination of clinical parameters, such as the ratio between oxygen level in the blood and the fraction of inspired oxygen (FiO2). However, there are a number of measurements and indices available that can help determine if a patient is able to breathe autonomously and thus avoid intubation and mechanical ventilation, which are risky procedures and can have serious adverse effects. This system will help hospitals in any country in the world, especially those in developing countries, where resources are even more limited, to better manage resources and provide adequate patient care.

Detecting and addressing post-traumatic stress disorder with an app 
A team led by Juan Manuel Soriano, a professor at the EPSEB from the Department of Management, is working on an app for early detecting symptoms of post-traumatic stress disorder (PTSD) in ICU survivors of COVID-19, who are likely to develop it, and thus helping to provide specific treatment to prevent the psychosocial consequences and disability for PTSD.

Detecting PTSD in ICU survivors is an unmet need that can get significantly worse in the current context of large numbers of cases and an overwhelmed healthcare system. Technology-based solutions such as apps for smartphones can help to overcome barriers and better manage such patients.

TelecomuniCAT
It is a citizens' solidary initiative that aims to ease the loneliness of COVID-19 patients in Catalan hospitals at a time when they cannot receive visits because of self-isolation and lockdown measures. The initiative is based on temporarily and freely providing such patients with mobile devices from a social and corporate donation campaign that are arranged for making videocalls without the user needing to set up the device. Thus, such patients can contact whoever they want in a simple and intuitive way, with a single touch and without compromising the dedication of the healthcare staff.

Such telematic contact with relatives seeks to improve the mood of patients in hospitals so that they have more courage to fight the disease. The initiative TelecomuniCAT is led by the professor Núria Salán, the assistant director of the ESEIAAT, in collaboration with the Catalan Society of Technology, FibraCAT and other entities.

No children without access to school from home
This is the motto of a project under development for preventing the digital divide in homes and providing devices and connectivity to families with school-age children. The project, coordinated by Leandro Navarro, a researcher at the Department of Computer Architecture and a professor at the Barcelona School of Informatics (FIB), is part of the initiative by a group of entities in the collaborative, social and circular economy that supports the shock programme of the Generalitat de Catalunya for providing smartphones, tablets and data connectivity to 50,000 families.

It specifically focuses on 30 families that have been identified by grassroots organisations, which will be provided with devices, connectivity and training to address their local and structural problem. In fact, these families will be comprehensively monitored (also in aspects other than computing) so that they can stay connected beyond lockdown.

Monitoring the evolution of the pandemic in southern countries
Núria Pedrós, a professor at the ESAB from the Department of Physics, is conducting a study on monitoring the evolution of the COVID-19 pandemic in several regions and countries in the Global South through analysing available data and forecasting. Such predictions intend to help to plan healthcare and policy actions by limiting population mobility.

Given the variety in data availability, the project has a multiple approach to monitoring. It aims to transfer the epidemic prediction methodology currently used by the BIOCOM-SC research group to research groups and institutions in southern regions and countries with available data and analytical capacity. If a country does not have enough official data, the study conducts an analysis of media data to estimate the evolution of the pandemic. The project also considers the multicultural factor of the pandemic by ethnographically understanding how it is experienced in certain populations (Senegal and Ecuador). It includes a final campaign to raise awareness among the UPC community and the Catalan population about the need to have universal health coverage and to strengthen existing international associations.
Other research projects and initiatives of schools
In response to the COVID-19 health emergency, UPC research groups and centres are working on several scientific projects to tackle the spread of the virus. Additionally, a numbe of schools, professors, researchers and students are sharing their knowledge and 3D-printing equipment to make masks, respirators and face shields for hospitals. Some of the ongoing projects and initiatives can be found in this news: