The UPC and the Castelldefels City Council inaugurate DroneLab, a unique laboratory and flight facility for UAVs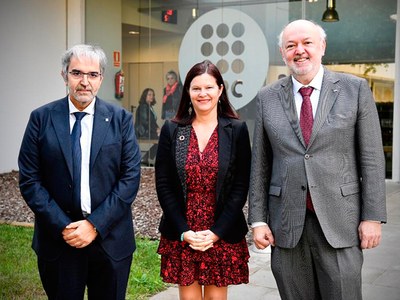 +
Download
From left to right: Ministry of Research and Universities general secretary Joaquim Nin, Castelldefels mayor María Miranda and UPC rector Daniel Crespo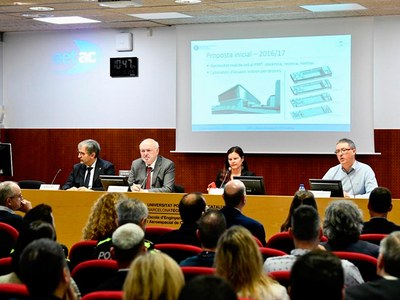 +
Download
DroneLab opening ceremony. From left to right, Joaquim Nin, Daniel Crespo, María Miranda and Enric Pastor, director of the UPC's ICARUS group
On 11 November, the Drone Research Laboratory (DroneLab) was opened on the UPC Baix Llobregat Campus in Castelldefels. Pioneering in Spain and Europe, it is a multidisciplinary facility for conducting tests and validating and training UAV-based applications. The new laboratory, which is part of the Mediterranean Technology Park, is intended for research and teaching purposes but also for the business sector.
Dec 13, 2022
DroneLab of the Universitat Politècnica de Catalunya - BarcelonaTech (UPC) is the first in Europe for mobile communications applied to drones. It offers companies, research groups and organisations a laboratory and flight facility segregated from general airspace and not restricted to aviation regulation. It is equipped with technology to conduct experiments, research and teaching related to the subject. Measuring 80 × 40 × 15 meters, the netted enclosure guarantees safety and will allow any type of professional application or technology development related to drone-based logistics, automatic operation and the exploitation of 4G, 5G and the Internet of Things (IoT) communications to be validated.
DroneLab was opened on the UPC Baix Llobregat Campus on 11 November. The event was attended by Ministry of Research and Universities general secretary Joaquim Nin, Castelldefels mayor María Miranda, UPC rector Daniel Crespo, Castelldefels School of Telecommunications and Aerospace Engineering (EETAC) director Cristina Cervelló, DroneLab director and Mediterranean Technology Park (PMT) CEO Josep Manuel Yúfera and researcher Enric Pastor from the UPC's Intelligent Communications and Avionics for Robust Unmanned Aerial Systems (ICARUS) research group. 
DroneLab is promoted by the UPC and the Castelldefels City Council and supported by the PMT and the EETAC. It also involves the ICARUS research group. It is additionally co-financed by the Spanish Ministry of Economy and Competitiveness through the ERDF under the State Subprogramme for Research Infrastructures and Scientific-Technical Equipment. This initiative is intended to become a benchmark in research, development, innovation and teaching activities in the field of telecommunications and drones.  
Drones and mobile technology
As an innovative scientific and technical facility, DroneLab will allow to study the integration of drones with 4G, 5G and IoT communications. These technologies are key to the growth of the UAV industry, being the most viable alternative to overcome the current weak points related to communications. For now, UAVs operate connected to ground control through very limited range communications, which restricts their capabilities. With the expected deployment of 5G and IoT in the immediate future, reliable and high-speed data transfer will be provided to drones, which will accelerate the expansion of this industry, similar to that of mobile phones, and which will have applications in numerous fields. 
With the implementation of the European Commission's U-space strategy, over the next 20 years the drone sector in Europe is expected to generate more than 150,000 direct jobs and an economic impact of 10 billion euros per year, derived mainly of the provision of services. Infrastructure inspections, precision agriculture, last-mile logistics and urban mobility are some potential services of this technology, which will be consolidated with the adoption of future European regulations.
Some related research projects carried out at the UPC study the safe integration of drones in airspace, capacity control at outdoor events, radioactive source detection, and so on.
Research and teaching
Launching DroneLab was the result of the collaboration between several research groups: the already mentioned ICARUS research group, which studies how to integrate mobile communications into drones; the Wireless Communications and Technologies Research Group (WiComTec), which studies radioelectric signals between drones on base stations in mobile networks; the Wireless Networks Group (WNG), which studies 5G for IoT; and the Design and Evaluation of Broadband Networks and Services (BAMPLA) research group, which aims to set up a high-performing private 5G network.
DroneLab will provide a critical facility for teaching several subjects on the bachelor's degree in Aerospace Systems Engineering, the master's degree in Applications and Technologies for Unmanned Aircraft Systems (Drones) and the master's degree in Aerospace Science and Technology, all of which are taught at the UPC's EETAC.
This facility has joined the research and innovation ecosystem on the Baix Llobregat Campus, a technology generation hub that is also integrated by the Barcelona School of Agri-Food and Biosystems Engineering (EEABB) and research centres such as the Telecommunications Technology Centre of Catalonia (CTTC), the Institute of Photonic Sciences (ICFO), an office of the International Centre for Numerical Methods in Engineering (CIMNE) and an ESA Business Incubation Centre.